Bercolon is perhaps the most impressive ravine near the city of Valencia,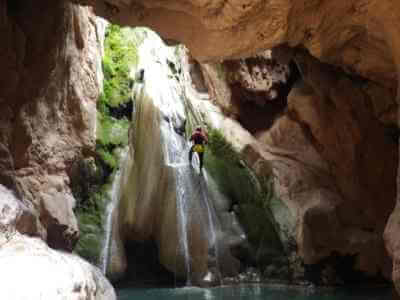 with waterfalls to rappel and a flow of water almost all year round.
The ravine has two marked parts separated by an escape route (path), through which we can approach near the Zagra bridge with a Alto vehicle or better 4x4, the other option is to do a path that lasts little more than 1 hour..

The environment is to visit, difficult to explain in words, better to see the images and much better is to VISIT. The river runs encased with walls that close the sky..

The first jumps from the top of the ravine are quite open, until reaching a gorge with the highest rappel (28 mts).

The equipment with a helmet and the Guide is necessary, as well as a forecast of good weather, in the ravines is an essential issue.

Desatur Aventuras proposes the excursion with the insurance and the necessary equipment to make this experience something to remember ...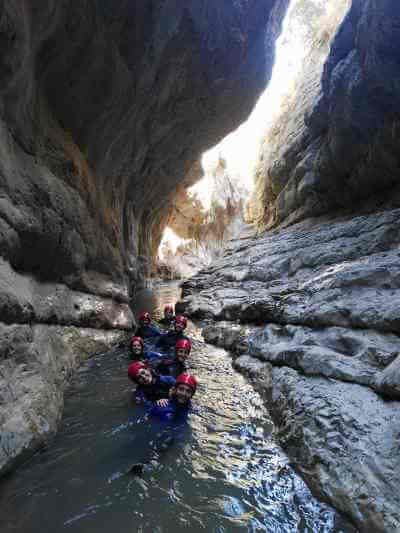 It is recommended to bring a waterproof camera (minimum IP 7) or if you cannot, waterproof enclosures for certain moments of the excursion.

The waterfall is formed by limestone tuffs that make us reach lower with a small bell-shaped cavity. It is a place of great beauty. It is called in the area "La Cueva de Bercolon".



Places are limited and the minimum group is 5 people, the activity lasts half a day since we leave from Tuéjar or Benagéber, You can call 644 414892, if you have questions or need more information: or more complete: send us your information request to info@pantanobenageber.com, we will send you complete information for you and your friends or family, you can enjoy this activity.

---

Bercolon visited by TVE in the program ESPAÑA DIRECTO on September 6, 2017
iframe width="560" height="315" src="https://www.youtube.com/embed/g8MYFsyhVps" title="YouTube video player" frameborder="0" allow="accelerometer; autoplay; clipboard-write; encrypted-media; gyroscope; picture-in-picture" allowfullscreen>
Example conditions of the proposals:
-> Material provided by the client::
-> You should bring comfortable mountain shoes, a change of clothes, water and a backpack
-> Equipment provided by the company::
-> Guide, insurance, approved technical equipment: helmet, harness, anchor lines, wetsuit ...
-> Duration: Half a day if only one canyon is hired
-> Season: All year round for dry ravines and spring and summer for ravines with water


Leave the routine and come ... bring the sleeping bag, come with yours and enjoy your adventure. Request more information: info@pantanobenageber.com


The fields marked with '*' are required.